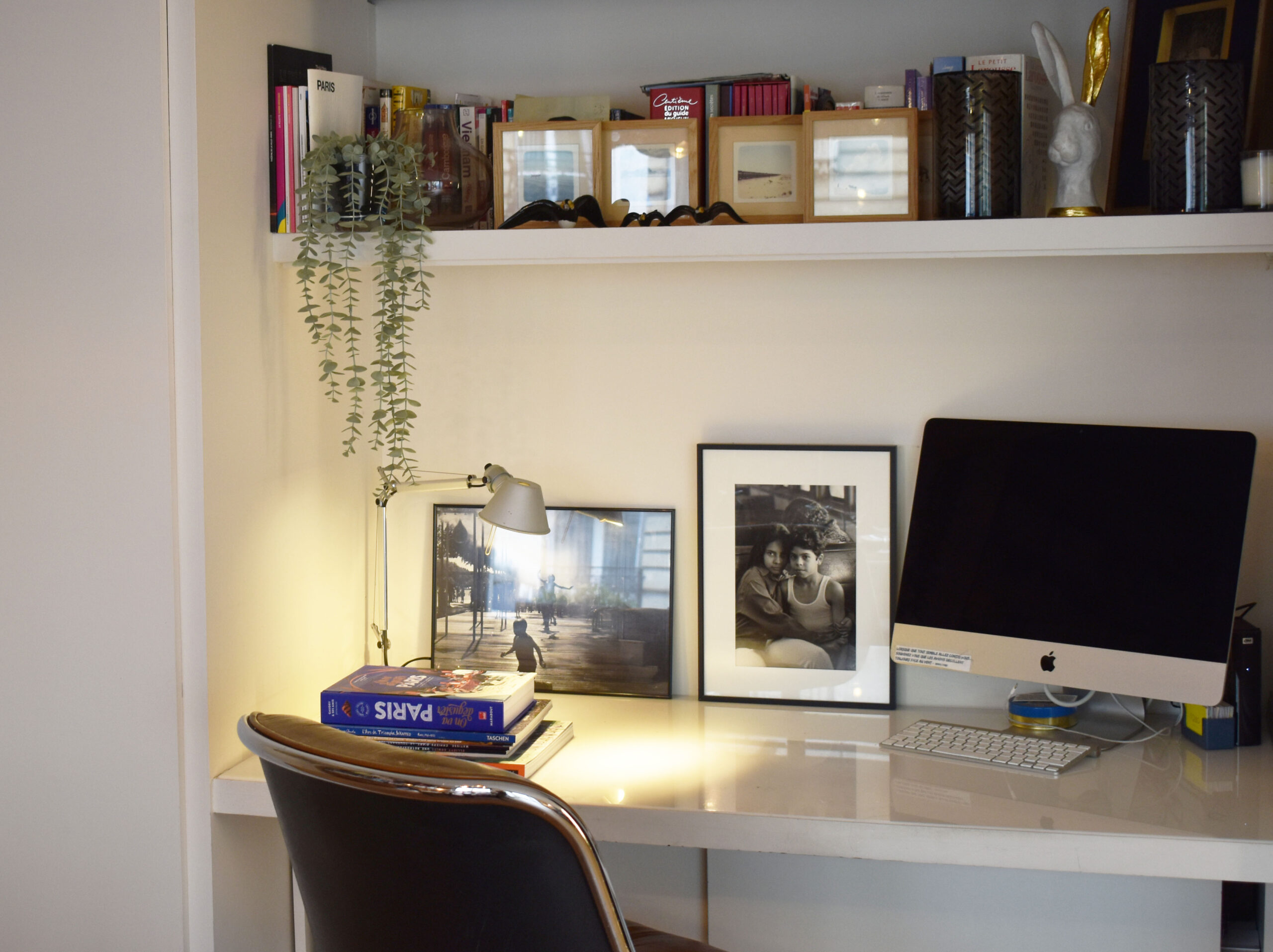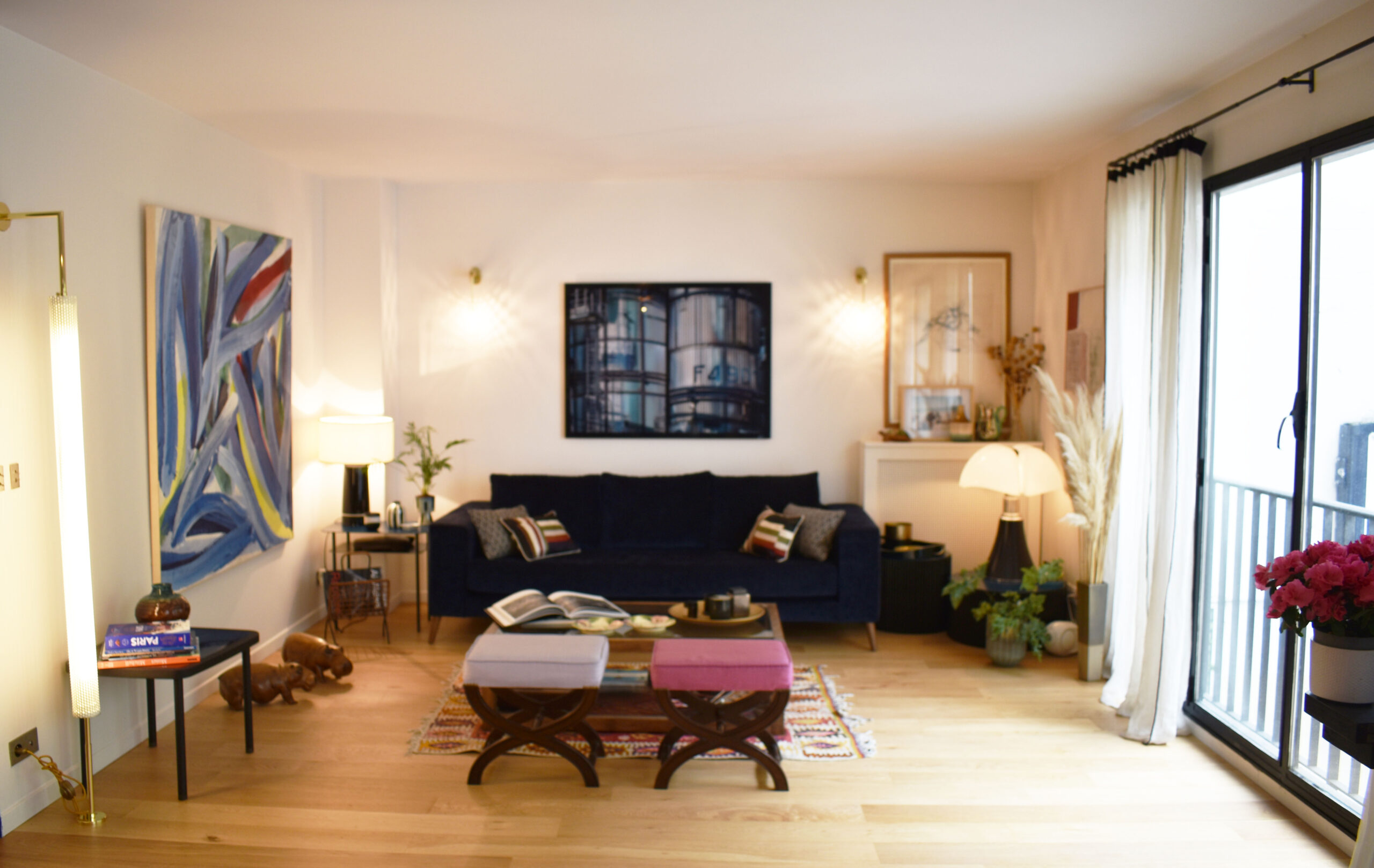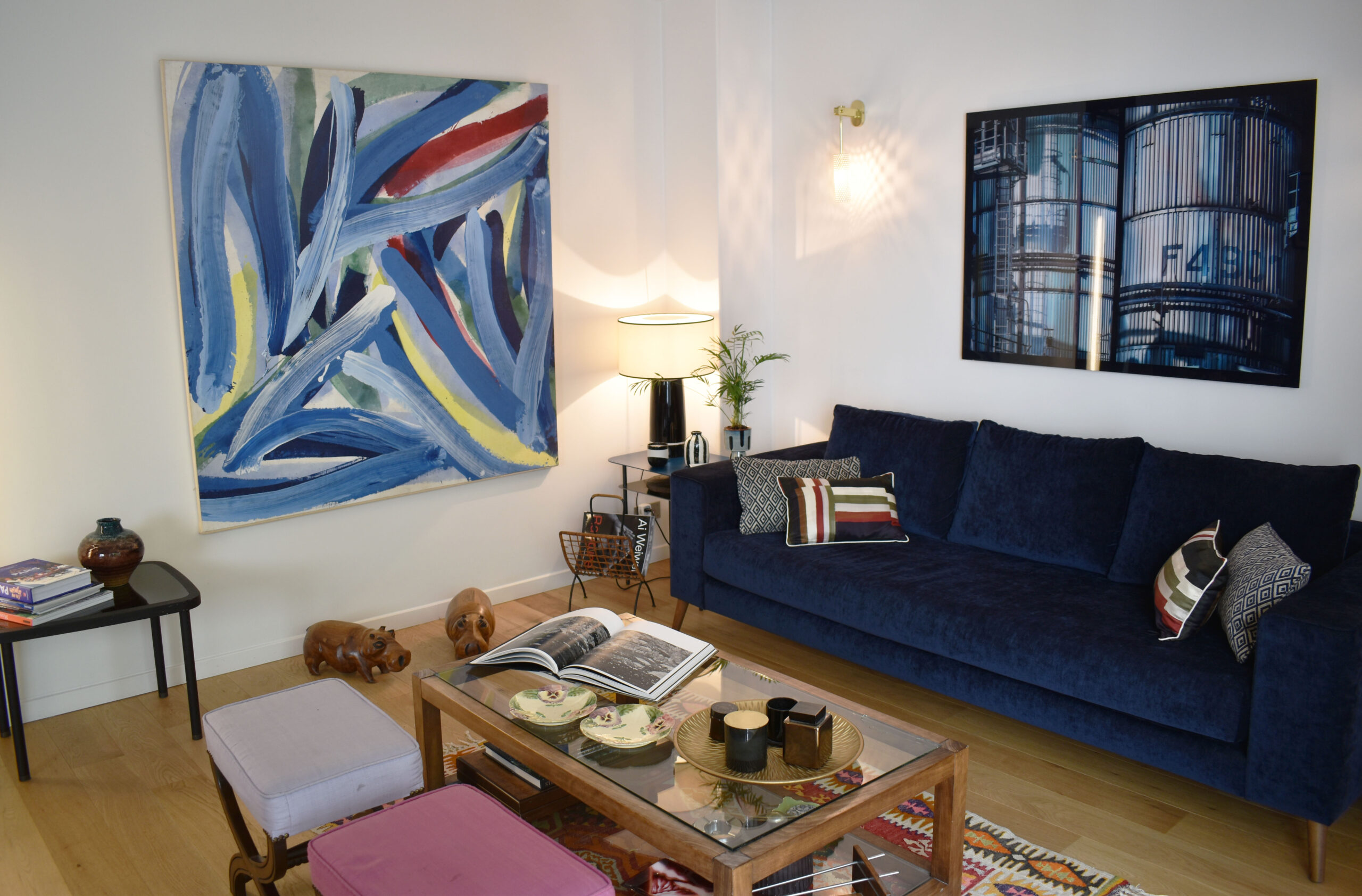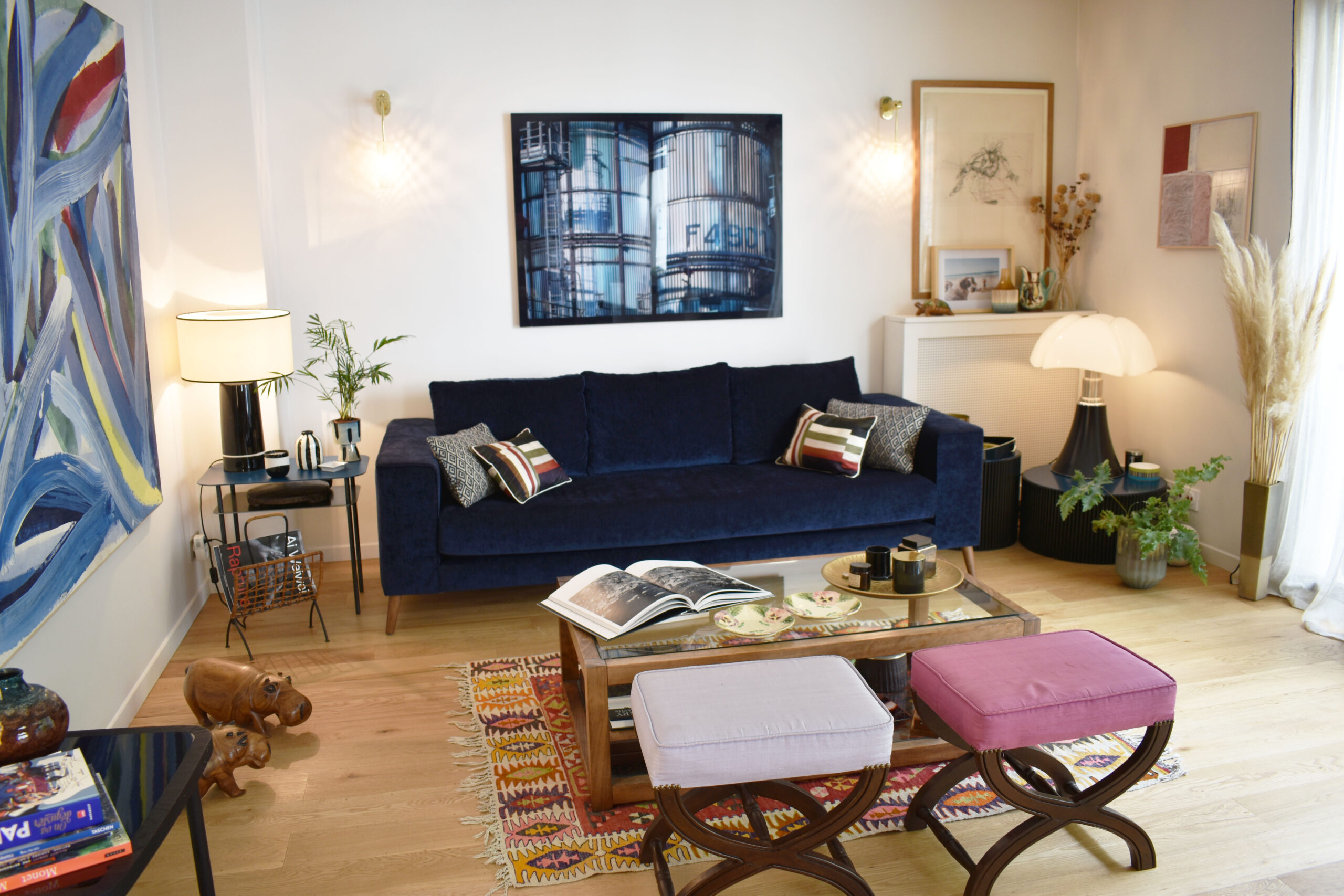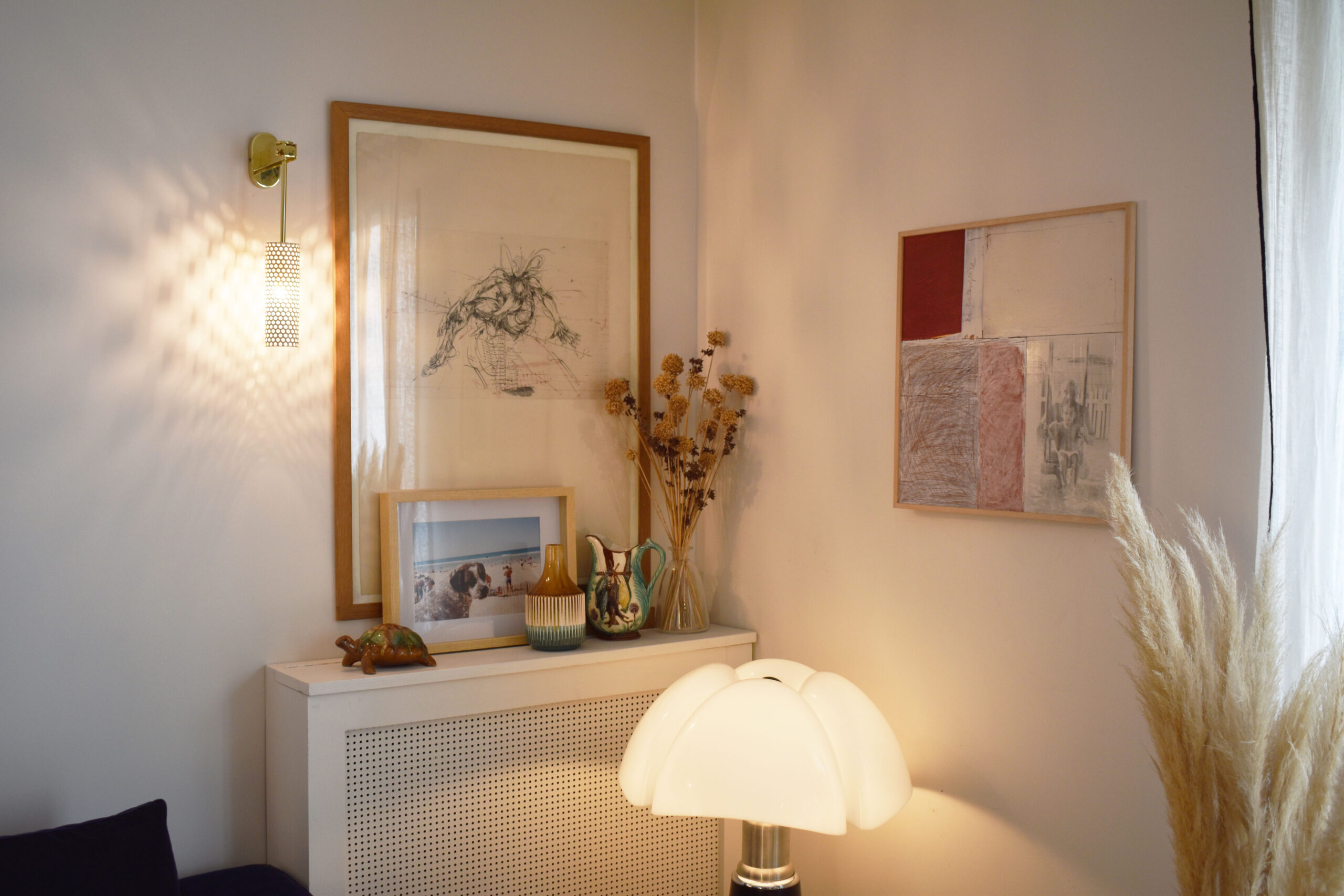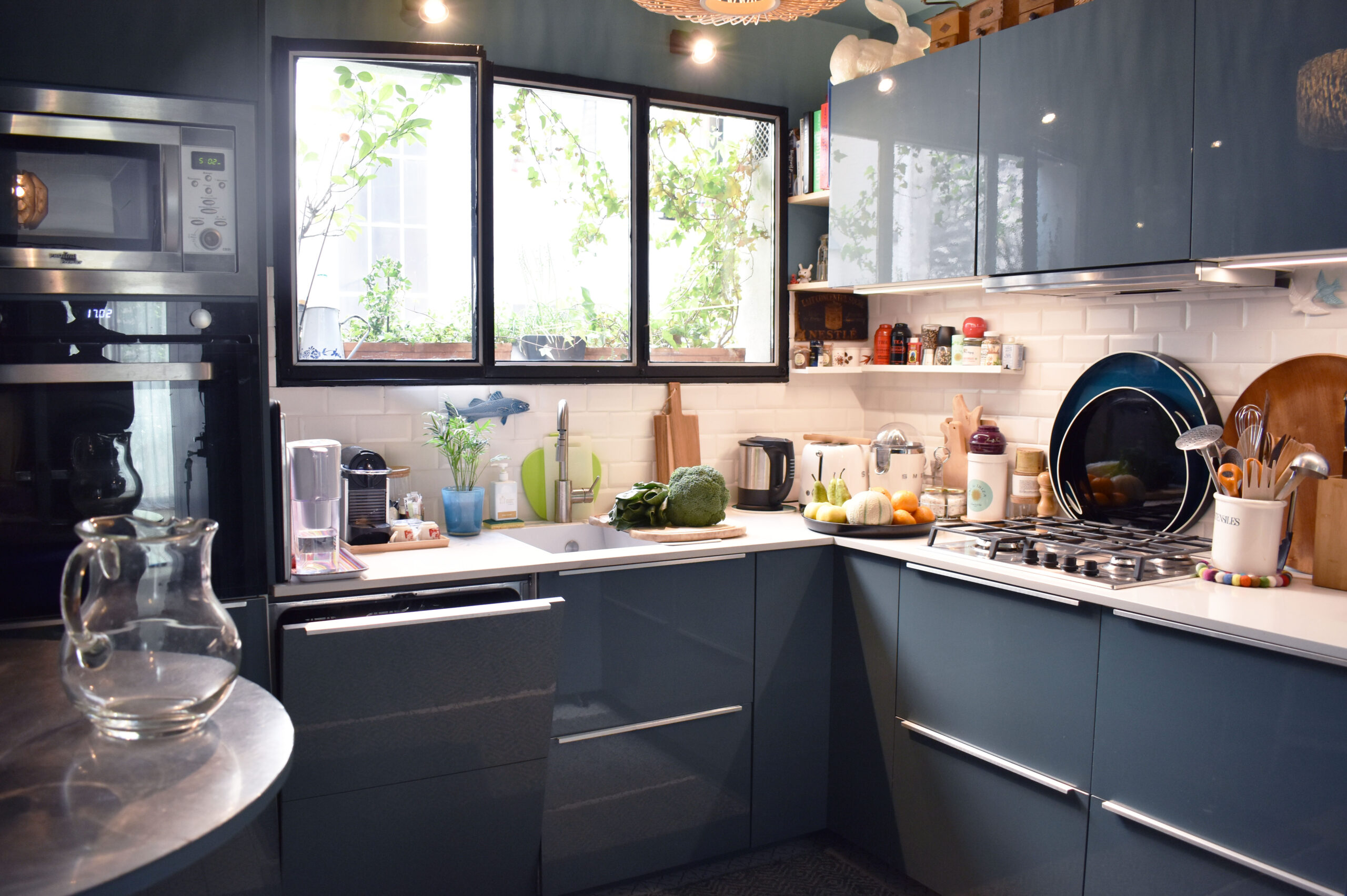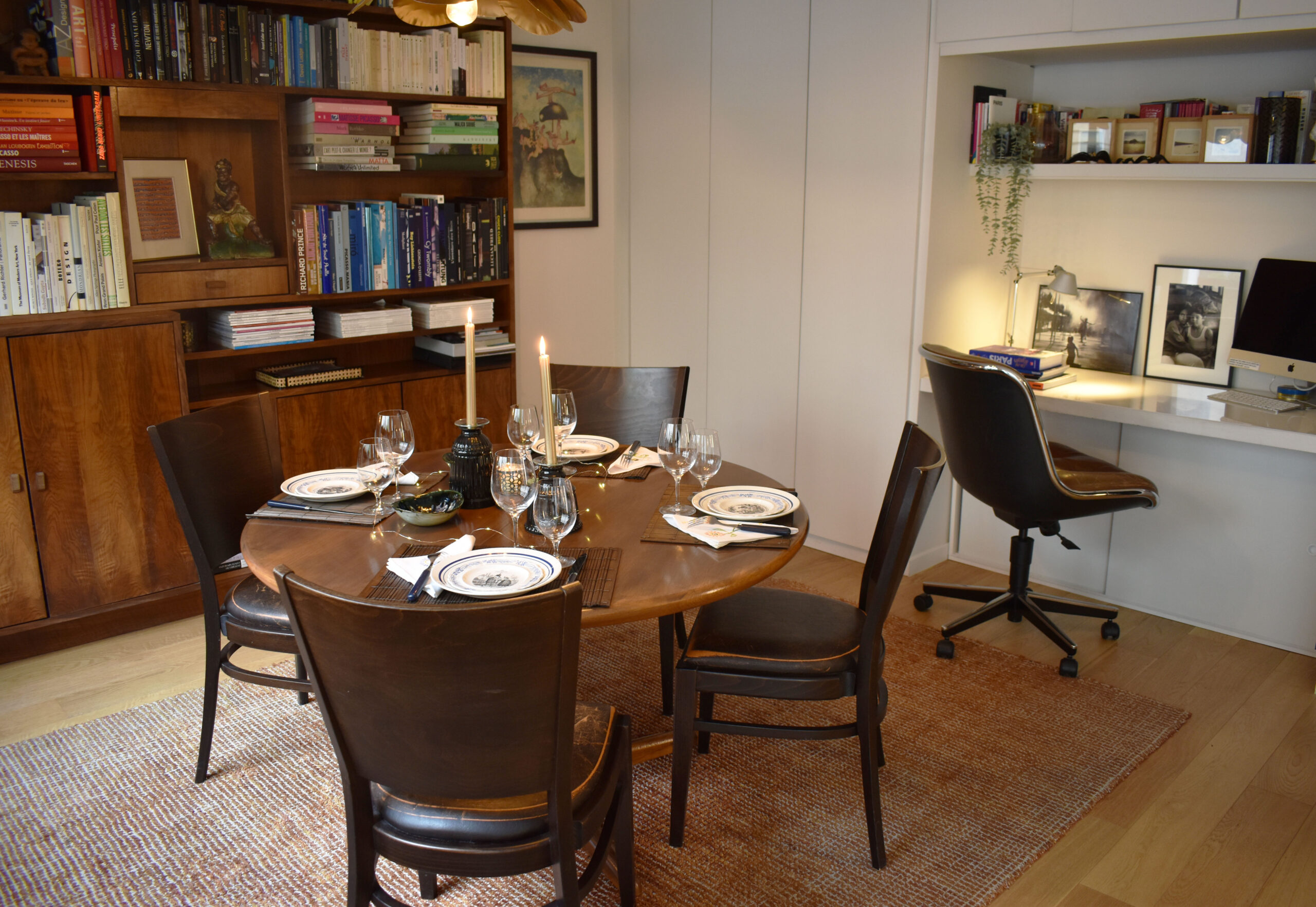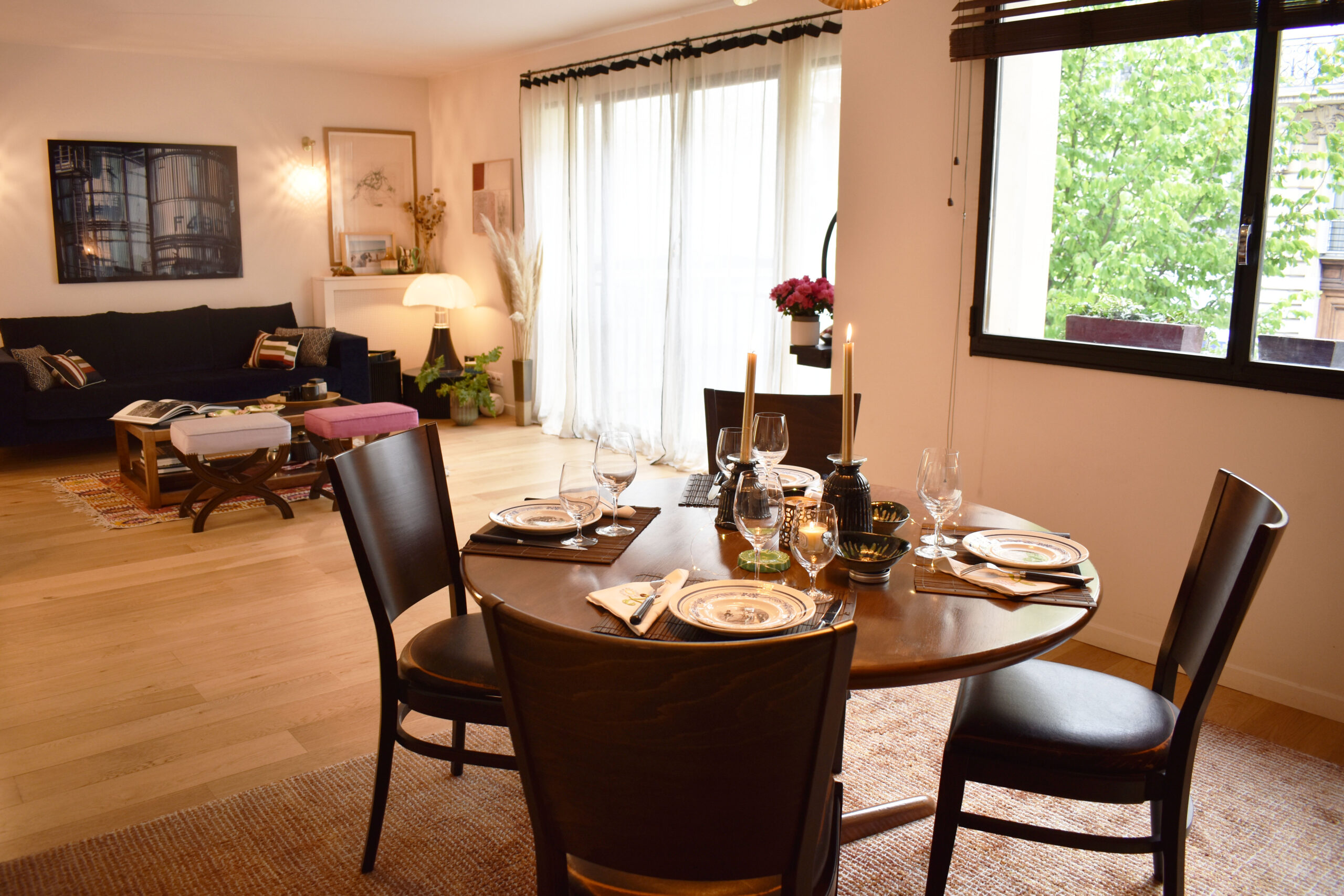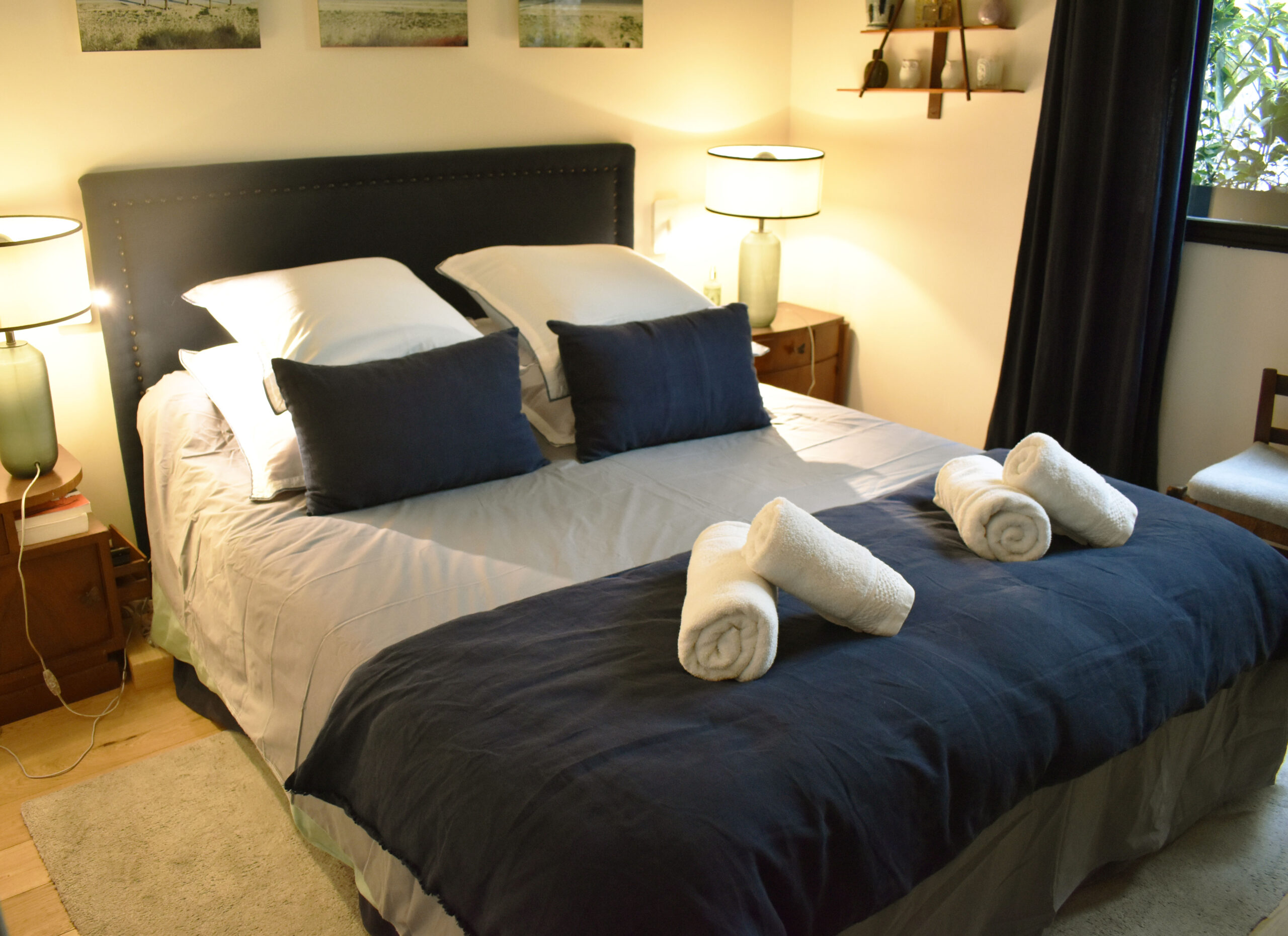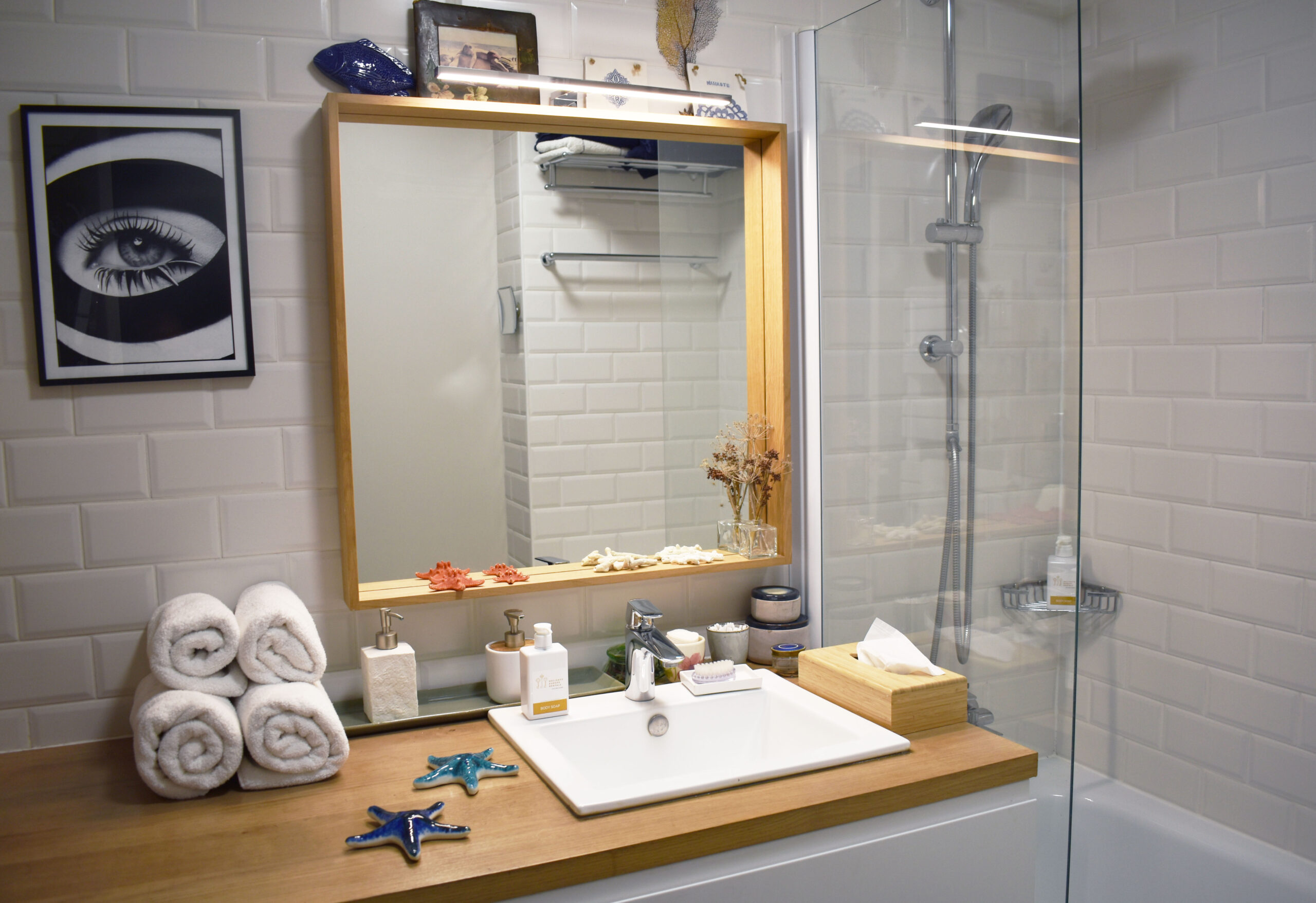 Eiffel Tower – Passy
Nestled away in the bourgeois Passy neighborhood, live like a true Parisian local just a 15-minute walk from the Eiffel Tower. With a wide-open living space and a modern kitchen, Eiffel Tower – Passy is perfect for a Paris getaway.
Painted in rich, dark navy and furnished with the highest quality oak, this apartment is the definition of modern luxury. Its proximity to the Eiffel Tower makes it perfect for a city break, and the Passy neighbourhood feels just like a village! Perched on top of the city, it's one of the safest and friendliest areas in Paris and only one kilometre from the Eiffel Tower. The scenic walk along the Seine to the most famous Parisian landmark is dotted with bakeries and boutiques. It is also close to the Trocadero Gardens – but for the best view of the city, head up the Arc de Triomphe, a 30-minute walk from the apartment.
The apartment boasts a spacious living area with a beautiful, comfortable sofa, a large dining table and an office space for anyone who wishes to be productive. There is an abundance of natural light from the floor-to-ceiling windows, and the owner's personal library collection is bound to keep you well entertained.
The cosy bedroom has a large double bed, fitted with the most luxurious linen and has a TV for your convenience. The dark hue of the walls is calming and encourages relaxation after a busy day out in the city. It is the perfect place to come home to.
Besides the bedroom, you will find the fully-fitted modern kitchen with everything you need to feel chez vous. The spacious cooking area is fitted with a hob, an oven and a microwave if you fancy a night in cooking your favourite French dish. There is also a Nespresso coffee machine with complimentary pods for your morning caffeine boost.
The bathroom is glamorous and has everything you might need to enjoy your stay, including a bathtub, shower and vanity table. There will be a hairdryer available along with complimentary towels, shower gel and hand soap.
The apartment is located on the first floor of a safe building with an elevator and two security doors. The closest metro stations are Trocadero and Passy, both of which are on line 6 – the most famous scenic Highline in Europe, offering travellers a glimpse of the Eiffel Tower over the Seine river and all the way up to the Sacré Coeur in the Montmartre district.
Details
Prices start at: 350€ per night
PLEASE NOTE: SMOKING IS FORBIDDEN IN ALL OF OUR PROPERTIES
PLEASE BE MINDFUL OF NEIGHBOURS AND KEEP NOISE LEVELS DOWN IN THE EVENINGS; PARTIES ARE NOT PERMITTED.
PETS ARE NOT ALLOWED IN ANY OF OUR APARTMENTS OR HOUSES.
More about Passy
Passy is a stylish area full of high-end shops and restaurants. Despite its proximity to the centre of the hustle and bustle of the city, it has an air of serenity with it's tree lined streets and sophisticated bars and cafés.
Some of the nearby attractions are:
La Grande Epicierie de Paris. A world famous shop providing authentic french gastronomie  www.lagrandeepicerie.com – 80, rue de Passy
Aubade Top-of-the-line lingerie shop –22, rue de Passy – aubade.fr – 22, rue de Passy
Zadig & Voltairehigh-end fashion store, for women & men  zadig-et-voltaire.com/eu/fr – 16bis rue de Passy
Lauren Vidal fashion for ladies, excellent quality goods, they have few stores in the City laurenvidal.com 49, rue de Passy
Restaurant Aéro Paris-Passy – 2, rue de Passy – aero-paris-passy.fr/fr 
Matsuri – Japanese restaurant(s) dishes pass in front of you & you chose whatever you wish – www.matsuri.fr 2-4, rue de Passy
HSP La Table oysters & salmon specialty – huitres-et-saumons-de-passy.fr – 17, rue de l'Annonciation 
Le Rallye Passy – 34, rue de l'Annociation – 0142 88 60 55
Camille Passy – 2, rue Duban – camille-restaurant.com – 06 52 84 98 17
Aux Cocottes – 29, rue Vineuse – www.restaurantauxcocottes.fr – 09 87 55 87 53 
A bit further away but worth the short walk:
Our favorite food market takes place every Wednesday & Saturday on Boulevard Wilson 12 minute walk.
Rue des Belles Feuilles also close by has all the food shops that one can wish for, our favorite butcher shop is Boucherie Fillion at number 26.
The best cheese shop in all of Paris is www.androuet.com that's located at 17, rue des Belles Feuilles.
For an extremely & delicious quick burger among other many items, the restaurant "El Corso" is the place to go it's located at 79, avenue Kleber
Musee d'Art Moderne (Museum of Modern Art) de Paris 11, avenue du Président Wilson 75016 magnificent exhibition & permanent collection.
An aperitif & why not a meal at "Le Shangri-La" hotel www.shangri-la.com/en/paris/shangrila located at 10, avenue d'Iéna 75016 is definitely a must.