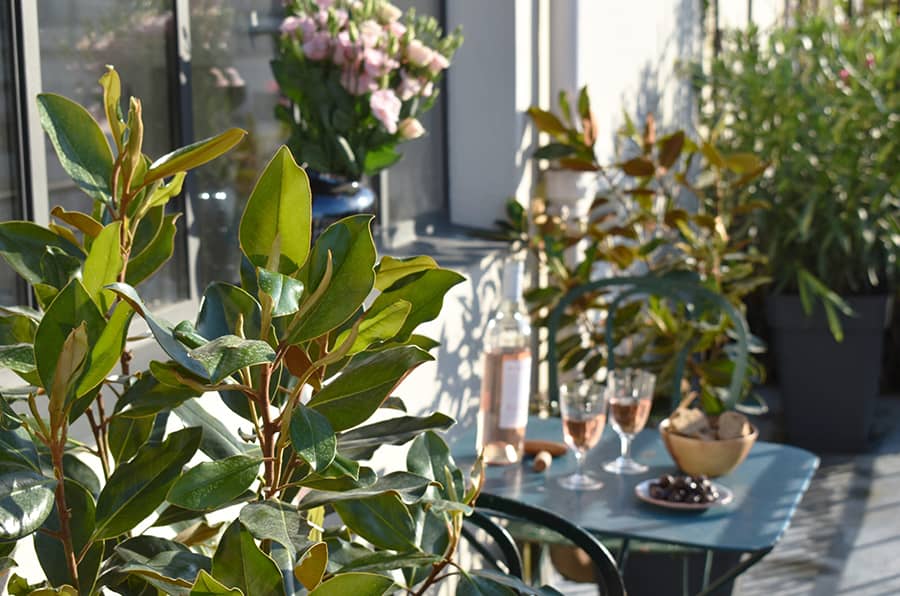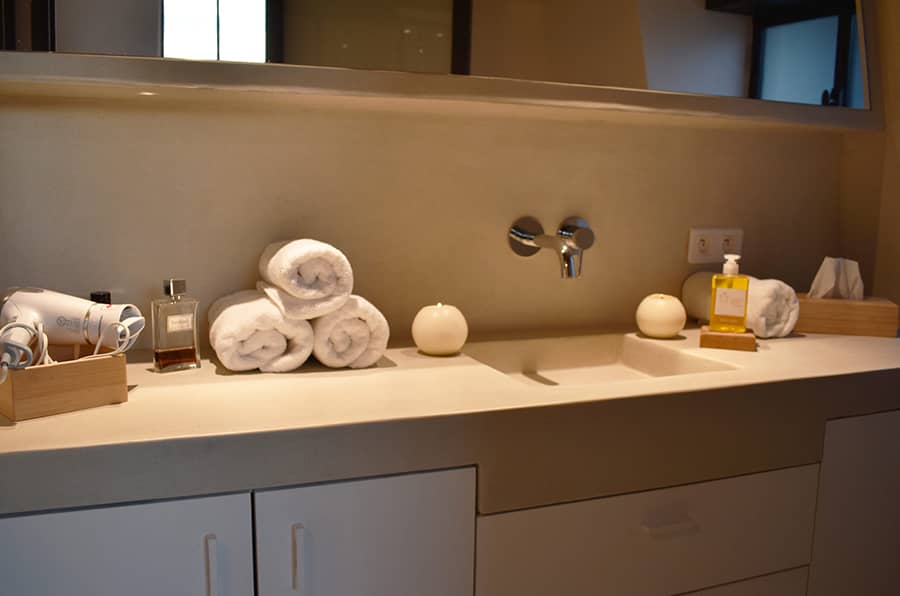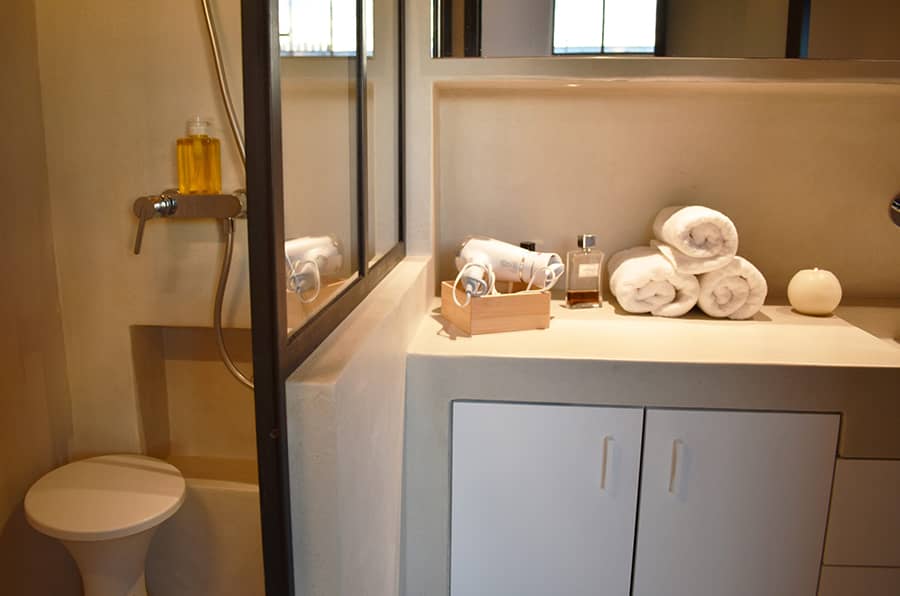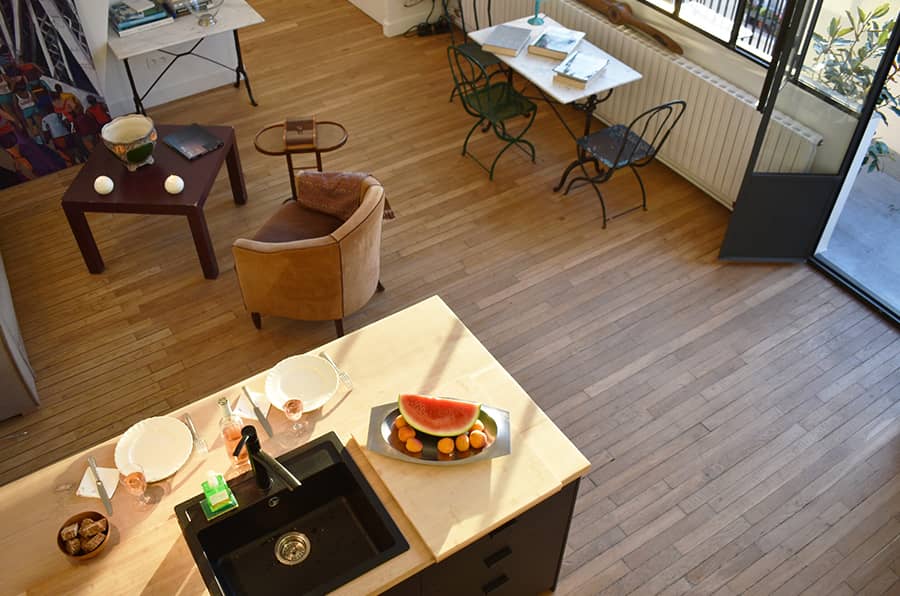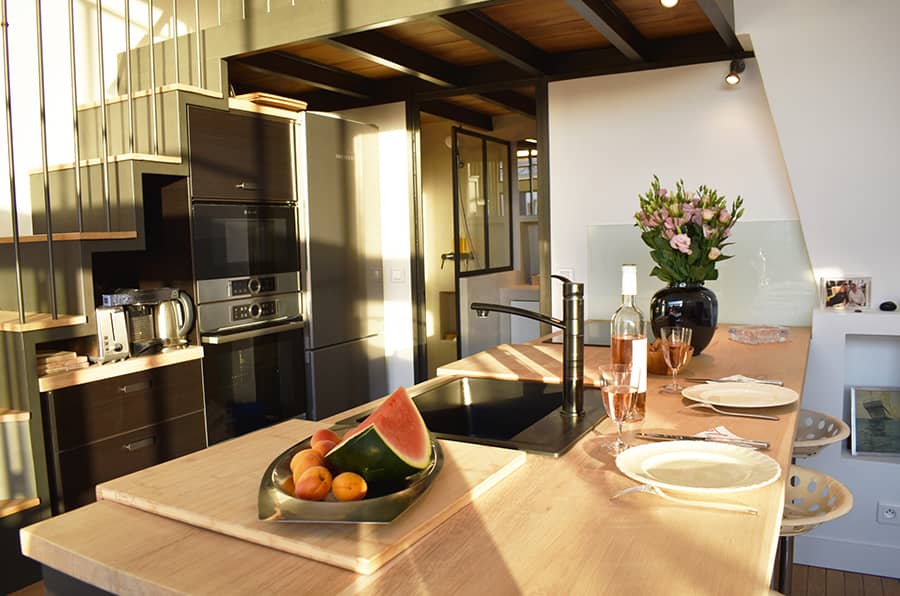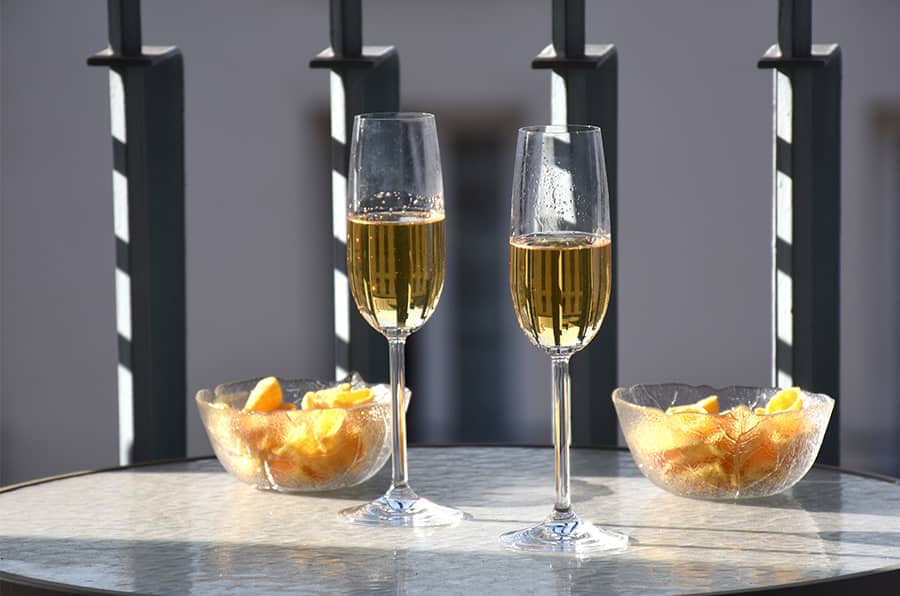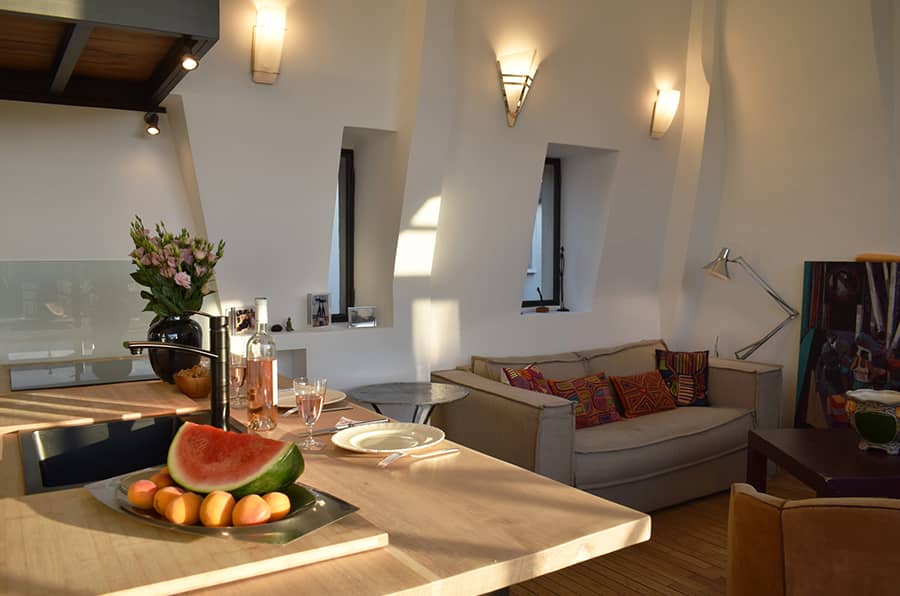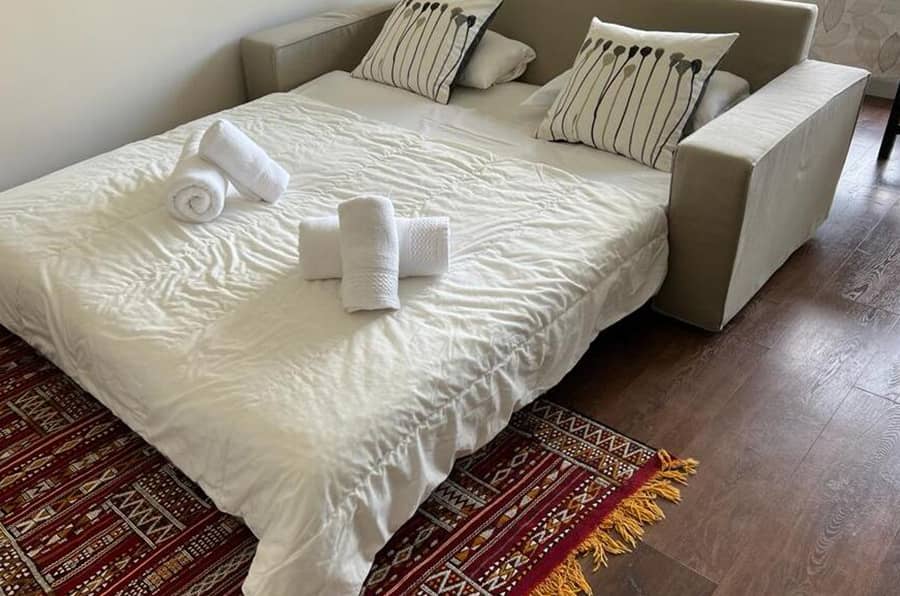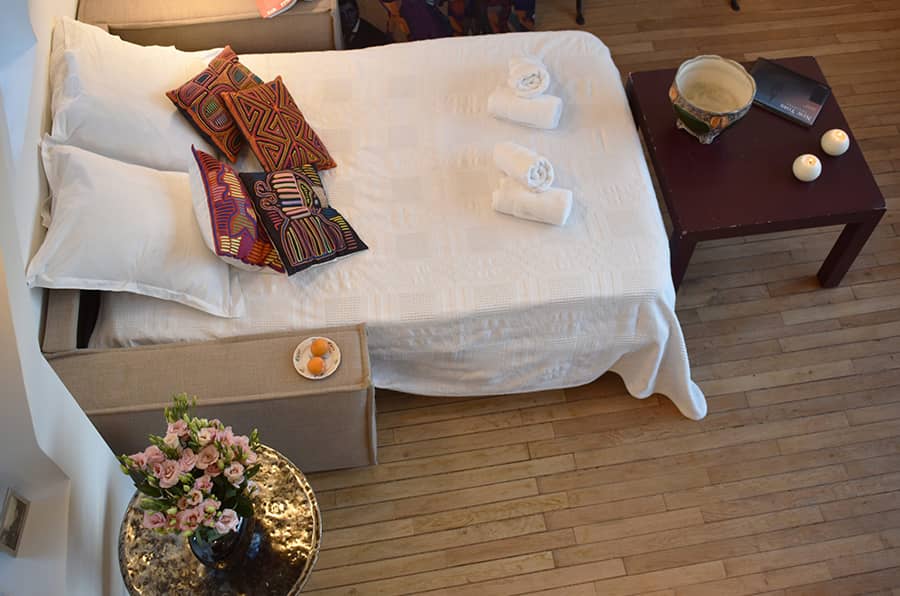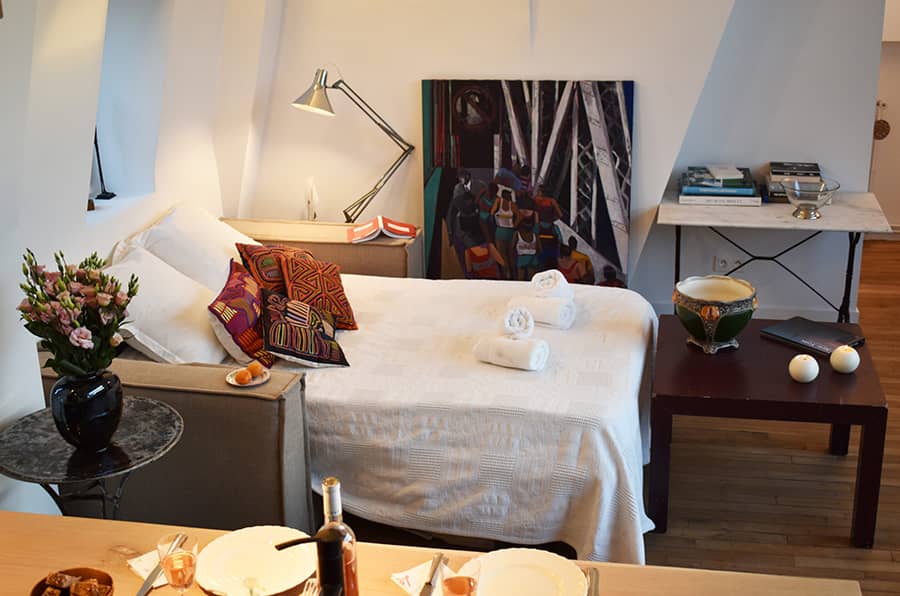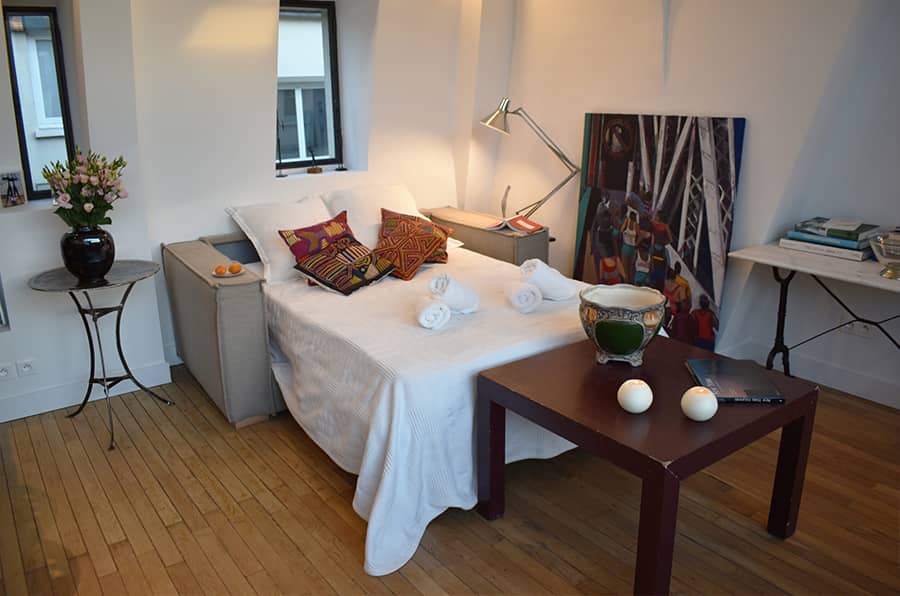 Artist – Loft
This magnificent entirely done over "ARTIST LOFT" with the utmost taste level in decor & amenities is simply the right size & location in Paris. It's not in the dead center of the Capital with astronomical rental prices but close enough to be in the City action in a few metro stops & due to its location, it's extremely quiet. The residents are basically families. The area is surrounded by food shops, restaurants, cafes, bakeries with fluffy croissants for your French breakfast, flowers shops, etc, etc..

.

After taking a lift to the 7th-floor one enters a very large open space that encompasses a sofa that's also a very comfortable double bed, armchairs & chairs to have a meal by the counter, the kitchen is fully equipped with a stove, an oven, microwave, a Nespresso coffee machine a frigidaire & a freezer. Next door there's a very functional bathroom with a walk-in shower a counter with a sink & a toilet.

Going upstairs via the staircase one will discover the double bed overlooking the entire living space & the extremely large window overlooking the terrace & the view of the City.

The terrace is the place where to enjoy all your meals surrounded by leafy plants, it's also the perfect place to have an aperitif before going out to a nearby restaurant…

The apartment is located in the Paris 15th district. It is a residential and business area, filled with many exposition infrastructures and easy direct access by metro to the center of Paris. From this location, reaching major events such as Parc des Princes, Roland Garros Stadium (French open) as well as Dôme de Paris are easily accessible. The Corentin Celton hospital is within walking distance. Shopping and entertainment such as Aquaboulevard water complex, movie theatres, and the sporting goods store known as Decathlon are also nearby.

The 15th district (sometimes broadly called Vaugirard after the long street that runs through it) starts at the Champ de Mars, just south of the Eiffel Tower, and is living, breathing proof that there is a lot of Paris beyond the Tower.

There's a real feeling of neighborhood life here and the streets are lined with shops, restaurants, salons, markets, and boulangeries to serve the 240,000 who live in the 15th. Let's take a short stroll around a quartier that is full of life and home to so many Parisians.

Île aux Cygnes: The reason this small island is completely straight is that it is man-made, created in the 19th century along with Pont de Grenelle, and intended to protect the bridge from the large barges then plying the Seine. This "isle of swans" is best known today for the replica of the Statue of Liberty located at its downriver end and for the (long, straight) running path. Île aux Cygnes is only 11 meters wide but since it's also 850 meters long it clocks in as the third largest island in Paris, behind Île de la Cité and Île Saint-Louis (also a man-made island).

The view of Paris from Tour Montparnasse: This 56-story skyscraper may be a bit of an eyesore, but the view of Paris from the observation deck is superb. Take Europe's fastest elevator (38 seconds) 640 feet above Paris where, on a clear day, you can see for more than 25 miles and spot all the landmarks of Paris, including the Eiffel Tower.

Musée Bourdelle: A student of Rodin, sculptor Antoine Bourdelle (1861-1929) created stunning bronze and marble sculptures. You can now visit the pleasant gardens and studio where he lived and worked. There is a garden full of oversized statues and some unfinished pieces are still in his workshop. Admission is free and it makes for a fascinating visit.

Rue du Commerce: This is a lovely, one-way shopping street that runs on the 15th from Boulevard de Grenelle right up to the church of St Jean Baptiste de Grenelle. It's busy all day with local shoppers and there's a lot to do and see. While a number of Parisian chain stores have taken up residence here (like boulangerie Paul), there are still local businesses to be found, as well as good food shopping.

The nearest metro stop to the apartment is "Convention" (line 12), which will link you up with the rest of the city. There are also buses, English-speaking taxis, and Uber easily available.
Service
Private driver on request